Hannah was awarded a Master of Music with Distinction in Instrumental Performance (with a focus on chamber music) from the Royal Birmingham Conservatoire in 2018. She studied under the tuition of Mark Ashford and Mark Eden and also graduated with a First Class Honours degree from the same institution.
Originally from Devon, Hannah started learning the guitar with Des Miles and successfully participated in many music festivals and concerts across the county, as well as travelling abroad with the North Devon Guitar Ensemble. Hannah has performed in masterclasses with Xuefei Yang, Marcin Dylla and Lorenzo Micheli among many other distinguished guitarists and in 2015, she was a finalist in the Royal Birmingham Conservatoire Guitar Prize.
Hannah has performed in a variety of ensembles and worked with many different instrumentalists. She is a founding member of Alma Guitar Trio who performed at the London Guitar Festival as part of IGF's Aspire Platform 2017 and were finalists in the Sylvia Cleaver Chamber Music Prize in 2018, and she is a member of the National Youth Guitar Ensemble Fellowship. Hannah gained a place on the CBSO Learning and Participation Programme and was awarded the Postgraduate Pedagogy Prize from the Royal Birmingham Conservatoire in 2017, as well as the MMus Course Prize in 2018.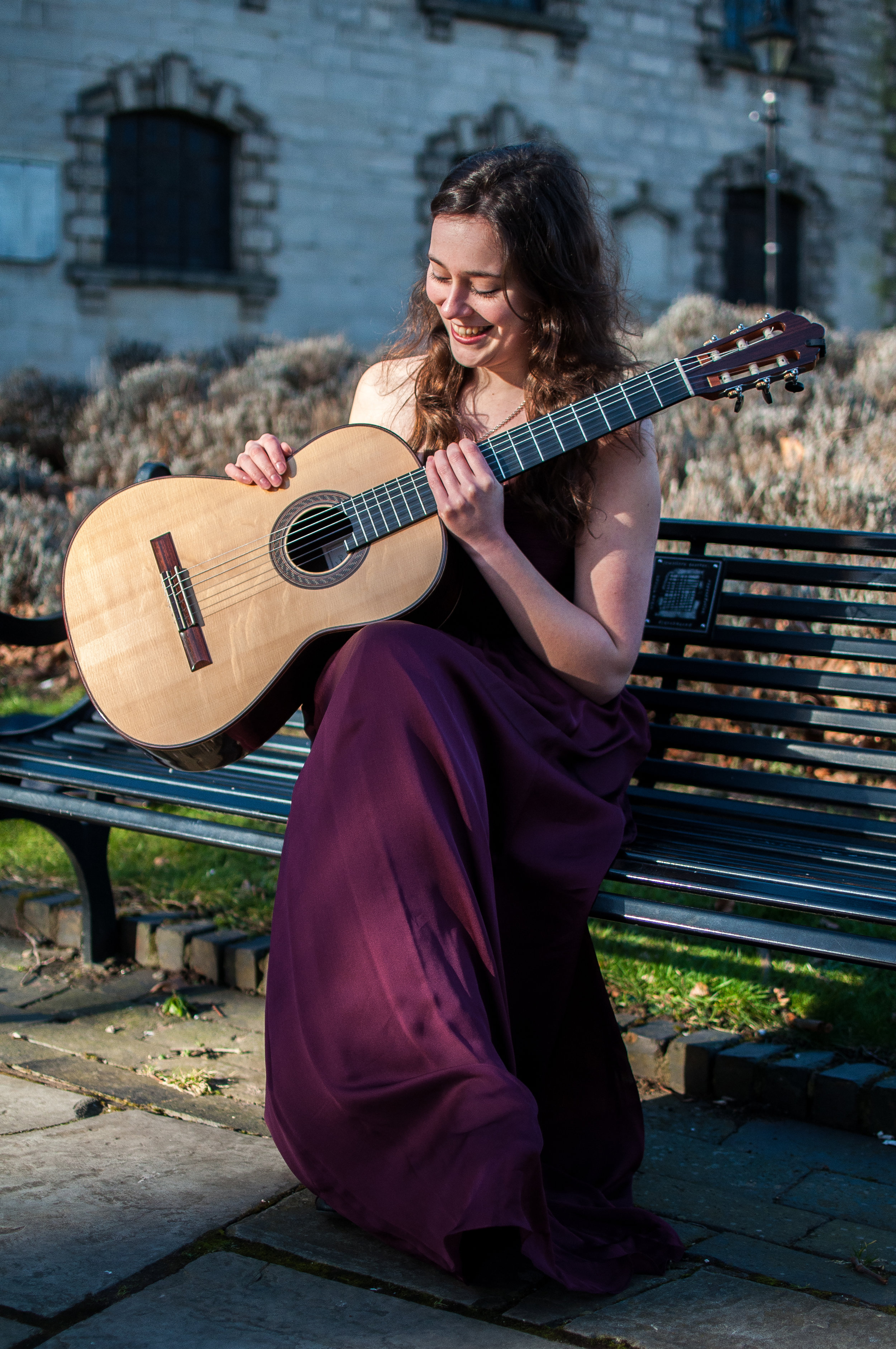 Hannah Woollacott, Jonnie Cumming and Rowan McConkey have been playing together since 2013. They graduated with a Masters degree in Instrumental Performance from the Royal Birmingham Conservatoire in 2018 where they studied under the tutelage of Mark Ashford and Mark Eden. Alma performed at Kings Place as part of the IGF Aspire Platform in the London Guitar Festival 2017 and were finalists in the Sylvia Cleaver Chamber Music Prize in 2018.
Alma are one of the few guitar trios currently performing; while there is a long tradition of guitar duo pairings, and increasingly, guitar quartets, the trio repertoire is seldom heard on the concert platform. The trio hope to expose the rare and neglected jewels of the trio repertoire by composers such as Stephen Dodgson, Timothy Bowers, Guido Santorsola, Phillip Houghton and Mario Gangi, amongst many others.
Alma are also passionate about expanding the repertoire for this rarely written-for ensemble, collaborating with composers such as Sabino de Bari, Ryan Probert and Susie Self. Alma also produce their own arrangements for trio from a range of styles and instrumentations, including works from composers such as Vaughan Williams, Albéniz and Piazzolla.
Hannah has 10 years experience of teaching the Classical Guitar to children and adults of varying ages and abilities and was awarded the Postgraduate Pedagogy Prize from the Royal Birmingham Conservatoire in 2017. She has entered many pupils in for Trinity College and London College of Music graded examinations, with a current success rate of merit or above.
Hannah has a well informed teaching approach; she has observed many different styles of teaching in a wide range of establishments. Hannah has experience in assisting the teaching of a variety of lessons in schools and also in leading musical workshops in paediatric wards.
Hannah mentored at the World Youth Guitar Festival in 2013, 2015 and 2017, where she offered support and help to children in guitar ensembles. She is also passionate about making music accessible to everyone and enjoys performing concerts to children of all ages, performing most recently for Polka Dot Concerts.
In addition to supporting children in their learning, Hannah has taken part in musical workshops for adults with learning disabilities. She studied Further Pedagogy at undergraduate and postgraduate level at the Royal Birmingham Conservatoire, so as well as drawing on these diverse teaching experiences, she is able to implement a variety of different teaching methods to suit specific students.
Hannah teaches both group and solo lessons depending on the student's want and need.
For more information and rates please enquire using the contact form or call 07531 021760.
Concerts for babies and young children
CONTACT
For information about teaching, booking for an event or anything else, please contact Hannah on 07531 021760 or enquire using the form below.